The ultimate recipe for carsharing success!
Over the past few decades, society has witnessed a renewed interest in urbanism alongside growing concerns over the environment. This evolution has led governments worldwide to implement "green legislation".
Consequently, the concept of sharing transportation with fellow inhabitants has become a prominent feature in cities across the world. Carsharing - while not new to the transportation sector - has seen its influence grown tremendously over the past 15 years, emerging today as an important player in a city's transportation ecosystem.
The following report provides expert guidance to help existing and future carsharing service providers to launch, improve or redefine their services in order to achieve widespread reach, peak performance, and maximum profitability. The seven key ingredients in the pages that follow are - without a doubt - the ultimate recipe for carsharing success!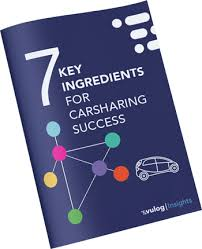 In this white paper you will learn:
Where and how to launch your carsharing service

Which decision-makers to integrate into your business strategy

How to optimize costs and generate revenue