Address the B2B market and watch your recurring carsharing revenue skyrocket
Vulog provides the ultimate solution for carsharing service providers in their quest to increase their revenue streams and upgrade their offerings innovatively. We know businesses are looking for cost-effective solutions to ensure their employees travel sustainably and safely.
That is why we are pleased to present you with our new B2B Suite! Already trialed successfully by our clients, the B2B Suite allows carsharing service providers to fully address this need for their employees by providing the most state-of-the-art B2B service available in today's market.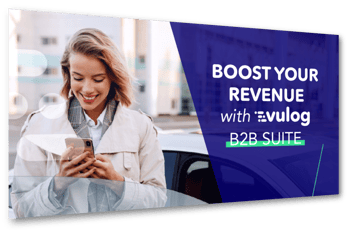 What you will learn from this brochure:

Maximize business performance and revenue growth with new and recurring streams

How to expand your user base by removing the first trip obstacle

Secure and grow your utilization rate with corporate deals
Want to find out more? Download our B2B Suite brochure now!