Increase and secure recurring revenue by addressing the B2B market segment
Enhance and ensure your recurring micromobility revenue by covering the B2B market. Micromobility service providers are always seeking new and innovative strategies to elevate their revenue streams and improve their offerings. In today's competitive market, many businesses are looking to stand out by implementing more sustainble practices into their strategies, starting with mobility.

Vulog's B2B Suite perfectly addresses this need for micromobility service providers and their corporate clients alike: those offering mopeds, e-scooters, and e-bikes, just to name a few. Tested by our clients, the B2B Suite ultimately delivers the most up-to-date B2B service readily available on the market.
Ready to learn more? Download our brochure to find out how the B2B Suite will benefit you and your micromobility service: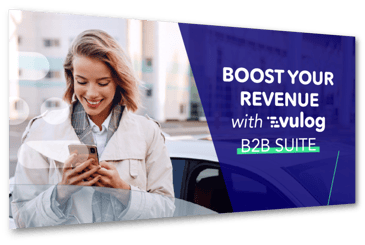 With new & recurring revenue streams, you can maximize your business performance

Remove the B2C first trip barrier and broaden your user base

With corporate agreements, you can secure and increase your utilization rate