Find out how Poppy Mobility launched a B2B offer to increase and secure recurring revenue!
We know that shared mobility operators are constantly searching for innovative ways to boost their revenue streams and enhance their offerings. Expanding to the B2B market can be a great way to add and secure recurring revenues for mobility service providers.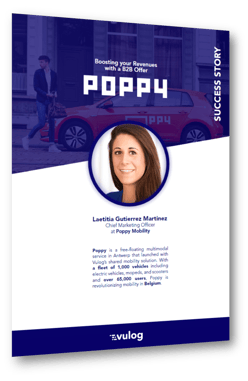 Learn from the experience of Laetitia Gutierrez Martinez, CMO of Belgium's popular multimodal shared mobility service Poppy.
In this case study, Laetitia shares with us:
Why Poppy decided to launch into the B2B market.
The added value Vulog's B2B Suite brings to their existing business model.
The key ingredients to successfully launch and operate the B2B offer.