Turn your vehicles into a connected sharing-ready fleet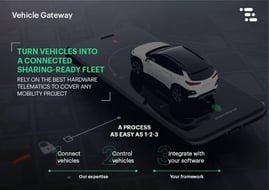 With Vulog's Vehicle Gateway, we transform your vehicles into a connected, sharing-ready fleet equipped with the best hardware telematics.
No matter your business model, vehicle, or location, or whether you're looking to offer carsharing, ride-hailing, Peer2Peer, or fleet management, with Vulog's Vehicle Gateway, we make your mobility project come to life!
What you can expect from the world's leading technology provider's gold-standard solution:
Totally agnostic

Full control

Seamless integration

The best hardware in the industry

Competitive pricing that does not compromise quality!
With our 15+ years of experience and over 50+ large-scale mobility projects, we've mastered the best practices that will save you time and money, no matter what kind of project(s) you have in mind.
Ready to get started? Download our brochure to find out more!